(For those who want to read purely about cybersecurity or the digital world, oops, this time round it's more of a self-indulgent post. Sorry!)
Recently I had the fortune of trying Cathay Pacific (with some friend recommendations) and because it was a whooping $10 cheaper than Thai Airways and Singapore Airlines that fly the same SIN-BKK route, I thought to try it out and compare against my other SIN-BKK experience on SQ.
The flights were in economy (I'm not a director or CEO yet, so I don't have the money), but I will try to review it from a more functional perspective. Basically, if we travel from Point A to B:
Can we get from Point A to B well and good?
Can we work onboard the flight?
Can we sleep onboard the flight?
How is the in-flight service?
Any refinements to service? (Especially so since flying nowadays can be torturous; any fine touches to make life easier for the passenger is good.)
The reviews will be done together because of commonality in products.
The Flights
Outbound flight: CX712, departs SIN at 1325 hours, arrives BKK at 1500 hours.
Equipment: A350-900
and…
Inbound flight: CX717, departs BKK at 1155 hrs, arrives SIN at 1525 hrs.
Equipment: A350-1000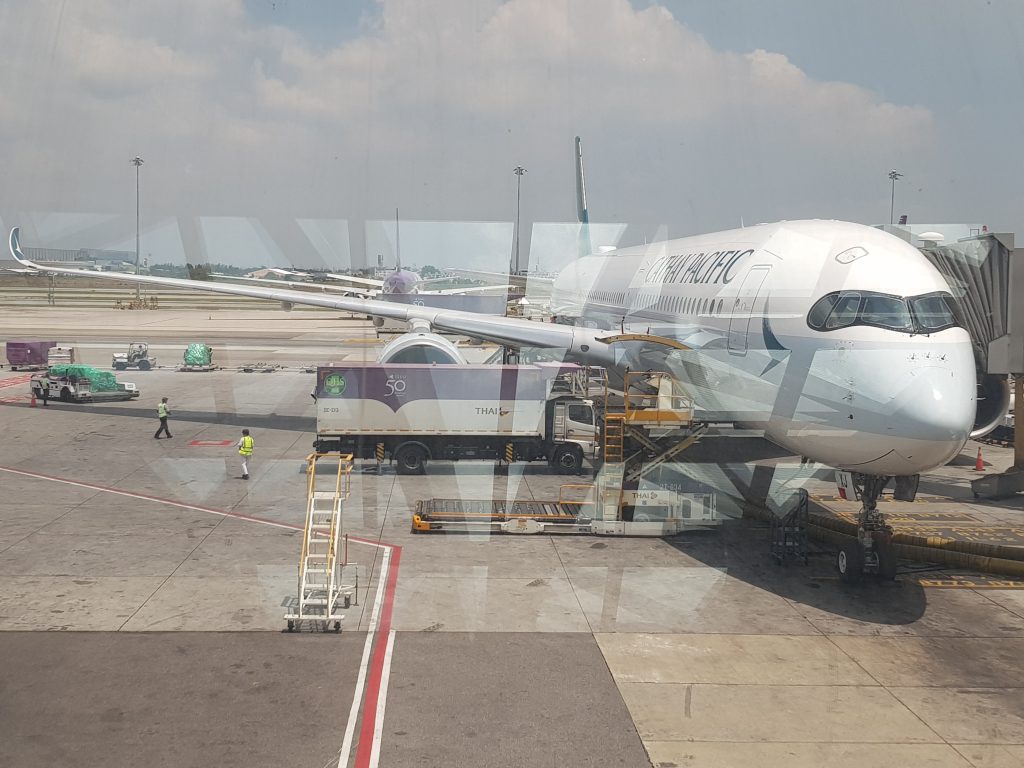 Boarding started late on both flights, but we took off on-time. Probably because the flights were only half-full.
The A350-900 and A350-1000 are Cathay's inter-continental workhorses alongside the Boeing 777-300ER. As such, what I am flying on is essentially the long-haul hard product.
The Hardware: Seat
The Seat Itself: Seat on the A350-900 on Cathay is somewhat special because the headrest configuration adopted is slightly different from the normal winged headrest onboard many other airlines (and their A350-1000). The headrest works at what it's supposed to do, though few other passengers folded the wings inwards for better head and neck support. Recline is standard.
If you are used to some pampering on airlines that provide a footrest for long-haul flights, be aware that Cathay does not have footrests unlike some of its competitors like Singapore Airlines. This did not make a difference on the 2 and a half hour legs, but it will make a difference for those flying long-haul, since the A350s go as far as Hong Kong to Washington D.C.!
Seat width is OK. The standard A350 seat width allows one to work in peace without having to elbow one's neighbour. The sturdy table will also allow for business travellers to work on their laptops comfortably.
Charging: Universal power plug and USB ports are standard today. Interestingly, they still have only one USB port, unlike some airlines which mark the USB ports as "charging" or "data transfer". Either way, for the security paranoid, stick to charging your power banks with these.
Holders: For passengers who are not in extra leg-room seats, the A350-900 features a nice mobile holder which allowed you to mount your smartphone and tablet for viewing pleasure. Quite nice; almost no other airline adopted this feature which should prove useful for some who would get bored of the in-flight entertainment system, or do work on the go. The A350-1000 fixes this problem; everyone has a holder.

Each seat also has a cup holder, which is good for storing drinks without the need for the whole table.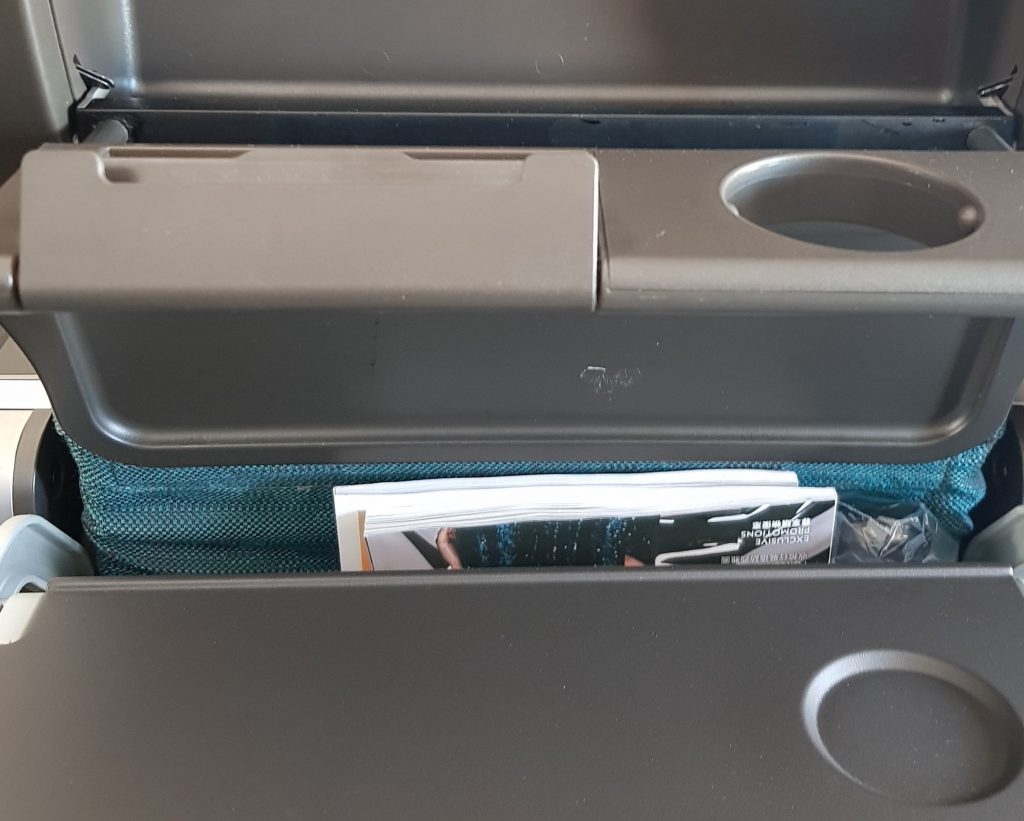 Table: Table is sturdy and is a great working surface. I did not test it myself, but a neighbour beside me worked very comfortably on his laptop throughout the flight. Great.
Legroom: I tested the legroom for the seats besides the one I got (an extra legroom one). Good amount of legroom; it was as spacious as leading Asian airlines.
Amenities
Cathay provides some amenities, but it is telling the finer touches are missing. I looked around, and found hand and face lotions alongside hand soap, but there was no mouthwash, eau de toilette (we're not expecting cologne in Economy) toothbrush/toothpaste or comb to be found. This is one department that Cathay lags behind its main competitor: Singapore Airlines.
No amenity kit was provided (normal on regional hops), though there was a nice pair of headphones for every economy passenger to use alongside the IFE. As expected, it was alright.
In-Flight Entertainment
The in-flight entertainment was solid, though not as great as Emirates. I felt its controls were very intuitive, and its in-plane camera features were very refreshing to watch. Watching take-off rolls are something an aviation enthusiast would always enjoy, which I found disappointing in SQ that they did not install plane cameras on their aircraft.

I did not manage to push the IFE to its limit on such short hops, but I enjoyed watching a movie, played a game and read some magazine onboard. Quite a good selection.
Service
This is a department which I felt Cathay was let down not by its staff, but by what they have available to serve passengers with.
For those that are used to hot towel services, be aware Cathay does not have them on their regional legs. I am unsure if Cathay has hot towels on the long-haul legs, but this they lose to airlines that do have hot towel services (Thai, Singapore Airlines).
Lunch service was quite small on both flights. For some reason, it was in the meal service that I felt cost-cutting was in full force, with hard plastic cutlery instead of metal cutlery (thankfully hard enough that I did not end up biting into my own cutlery), prepacked water not being served alongside the meal tray and overall, a small lunch packet. Well, I guess the ice-cream goes some way to compensate for this, and Cathay still serves a full range of drinks in Economy (beer, wine, cocktails, green tea, alongside the typical hot and cold drinks), so that was good. I ordered a G&T on the SIN-BKK leg; it was refreshing, and a green tea on the return leg; it was also good enough.
The Cathay staff do try to help their passengers wherever possible, such as searching for extra food to feed the extra-hungry passenger (I remembered asking for extra bread, but I wasn't provided a knife for butter, so this is a slight boo-boo, but was swiftly corrected). On a short flight like this, they hadn't much time to do additional drink rounds, so I was fine with the meal and drinks service. (Besides, I could simply just walk to the galley and ask for a drink, so this wasn't too big of a deal, but on long-haul, I hope this is not the case!)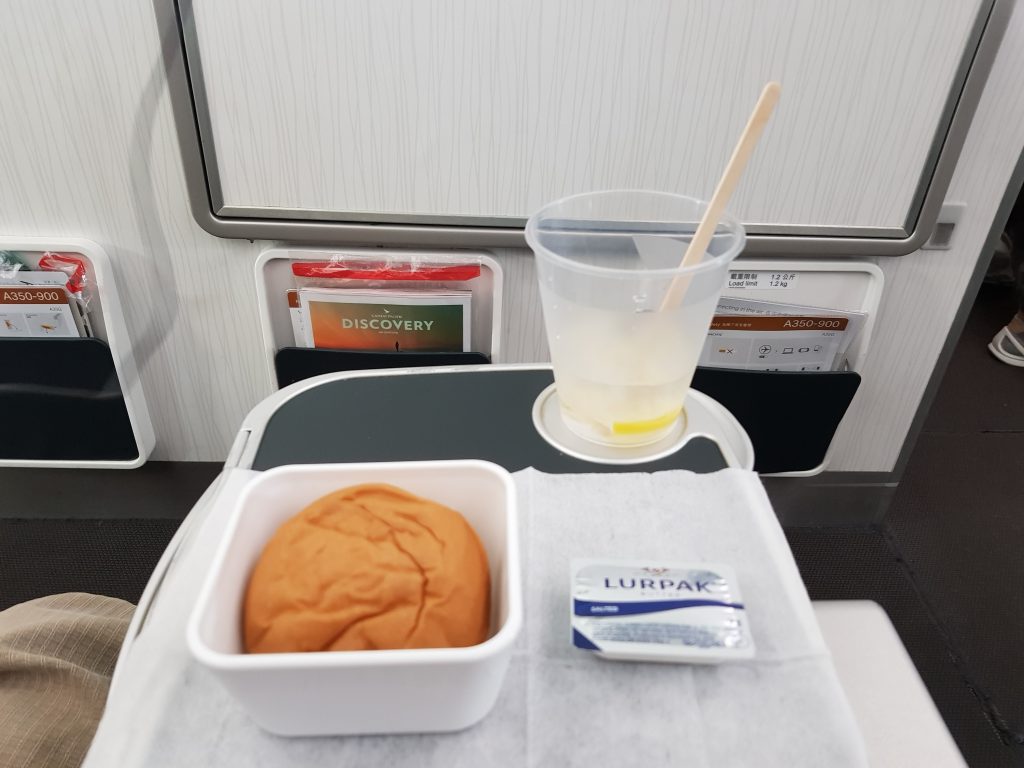 Extras
Being an aviation enthusiast means that I enjoy various collectibles the airlines have to offer. Some of these are steeped in tradition (e.g. the KLM houses), while others are more for plain entertainment value (e.g. playing cards). Secretly, the aviation enthusiast also enjoys viewing aviation technology and if possible, seeing some of these close-up.
Cathay was rather obliging, just like Emirates, in allowing me views of the A350 cockpit. I shall share a few pictures here. The cockpit is beautiful; plane technology has advanced so much from the days of old toggle switches, low-resolution screens to tablets, modern computing interfaces and augmented HUDs.
Such extras are a very nice touch that still remain in air travel even post September 11. Someday I hope to fly as a pilot or sit alongside a pilot on take-offs and landings, but I doubt that day will ever come.
Scorecard
One review is not an assessment of the entire airline. I used to give scores on my other reviews, but I am not too interested in doing so this time round. Instead, I shall distill the positives, and the points for improvement for these Cathay flights.
Positive:
1. The staff were very obliging and try their best to fulfil requests. Understandably, there were limitations (you can't provide someone an amenity that was never stocked), but the crew do try very hard. The service wasn't as polished as airlines like SQ, but good effort should be recognised.
2. Cathay has innovations that will suit the leisure traveller. Many leisure travellers will enjoy the use of the phone holder to watch their own movies. I did not have an iPad to test the robustness of the holder, but I can't imagine anything more than a large mobile device being suitable for the holder itself.
To Improve:
1. The cost cutting is evident in all classes, even Economy. For passengers who pay a more premium fare to travel more comfortably, there are expectations to provide a level of comfort equivalent to the ticket price. For twenty more dollars, I could have hopped onto SQ's Boeing 787-10 (which I have taken before on the exact same leg and it was a superior experience with a full range of Economy class amenities). Because this plane is a long-haul plane, I felt the expectations were not sufficiently met.

2. Meal sizes need to be larger. Airlines know this, and some have chosen to react positively to it (e.g. Qatar). Otherwise you'd simply realise that passengers will either grumble about small meal portions, or simply ask for extra meals/food (like I did).