Flight Details
Flight: BR216 from Singapore to Taipei-Taoyuan
Flight time: 4 hours 40 minutes (scheduled)
Departure: slightly after 1525 hours.
Arrival: approx 1945 hours. (plane caught up!)
Review
As a traveller who often leans for a full-service carrier instead of a budget carrier should the price differential not be great intra-Asia, I have expectations that the premium I pay is worthwhile.
This time, we travel on Eva Air, which departs from Changi Airport from Terminal 3. First pictures from T3: a pretty A350 of its alliance partner, Singapore Airlines.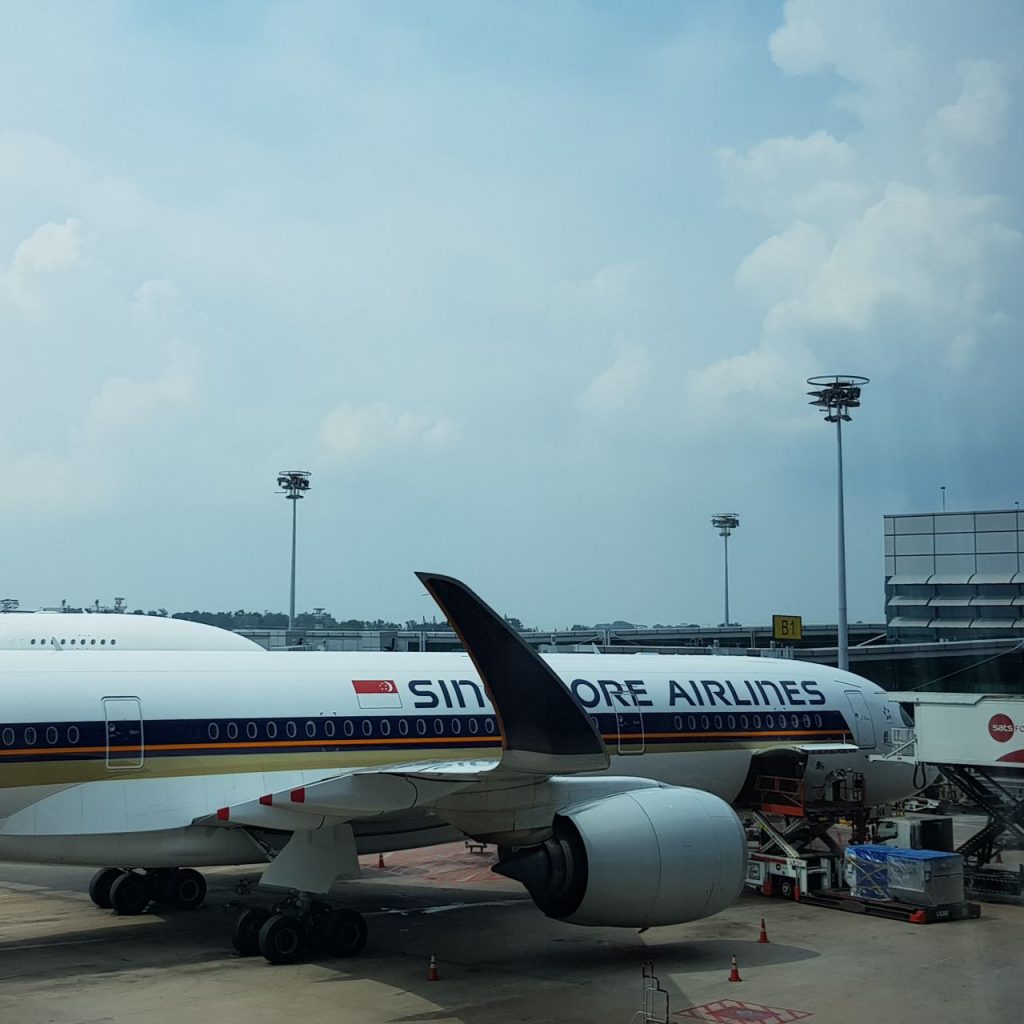 Eva Air departed from a slightly far gate at Gate B9 this time, and it was a full flight. Just look at how full this gate was! Eva Air's Boeing 777-300ER takes more than 300 passengers; I'd be in for a full flight.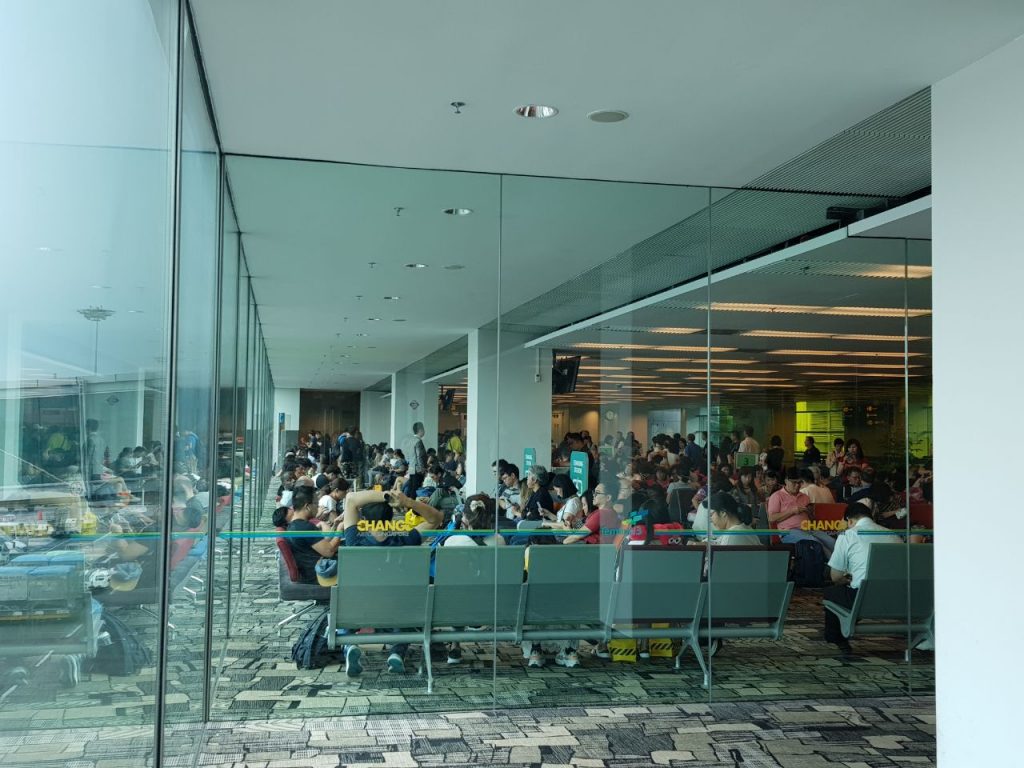 Boarding commenced somewhat late (I arrived about 10 minutes into boarding). Interesting note: Eva also offers Chinese papers of both Singapore and Taiwan.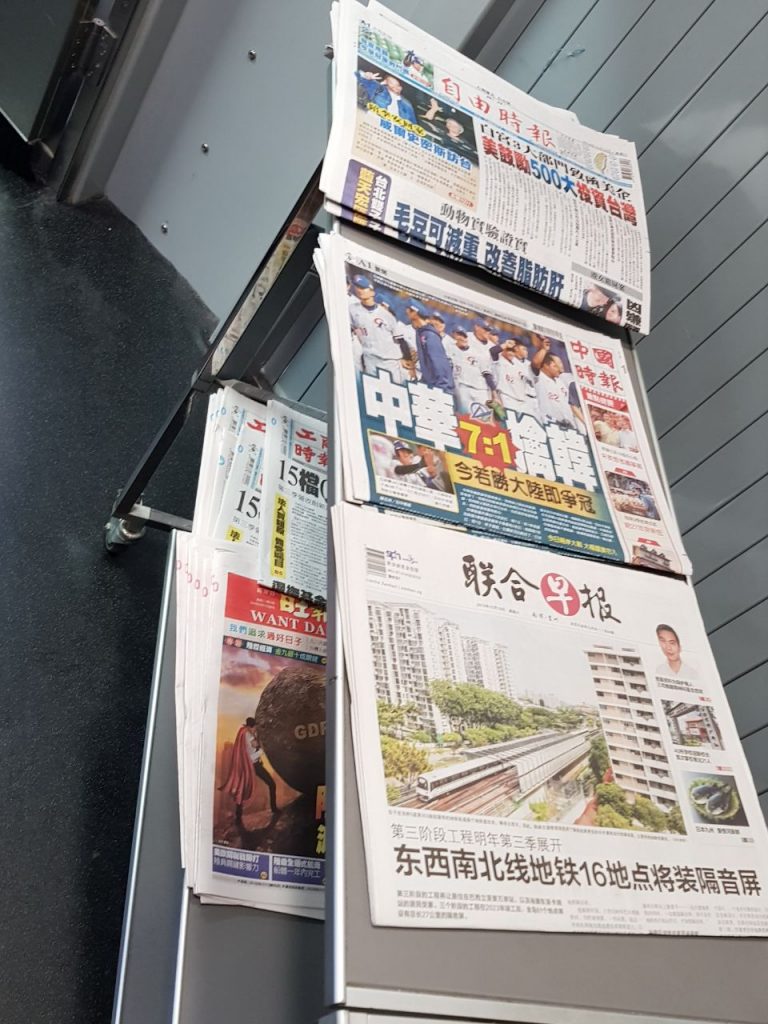 Note that Eva Air's 777-300ERs have two configurations; a 9-abreast one (which I was on) and a 10-abreast one. The difference for economy passengers is stark; I'm lucky to get a more spacious configuration. Note that this is the long-haul product that also goes to North America.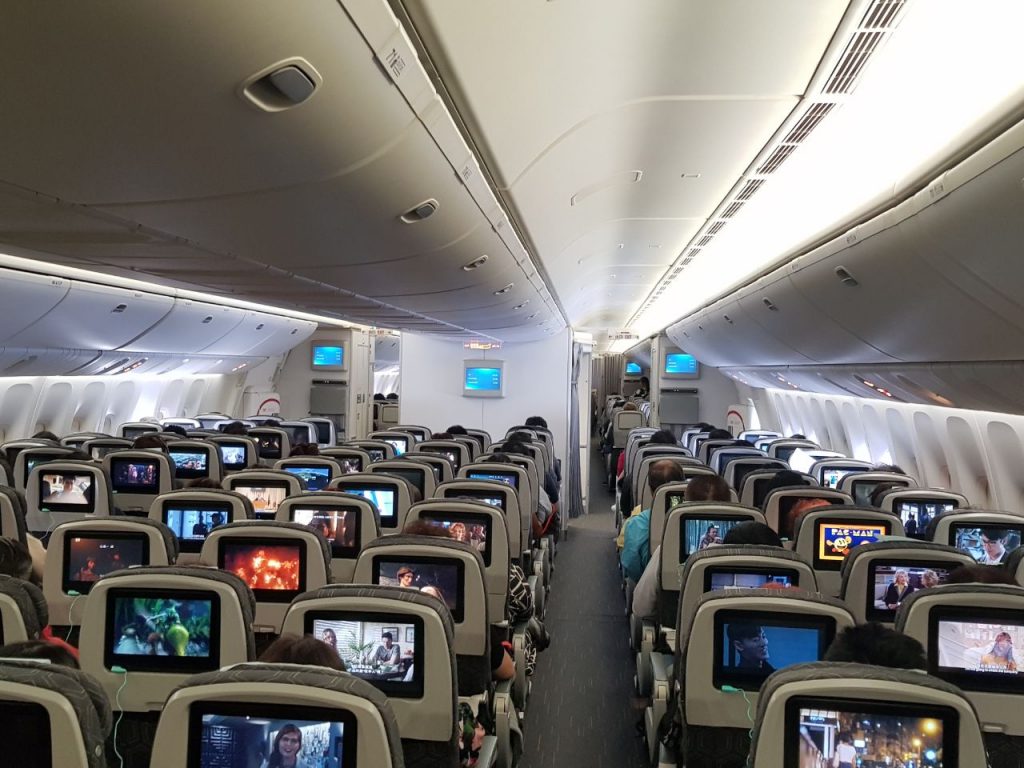 Amenities were standard: pillow, blanket for day-time flight. Interestingly the IFE was disabled during take-off, landing, and featured plenty of advertisements. Perhaps one cannot avoid these, or that such ancillary revenue is significant for Eva Air. Note for passengers who bring their own earphones: bring along your adapter or get only mono sound.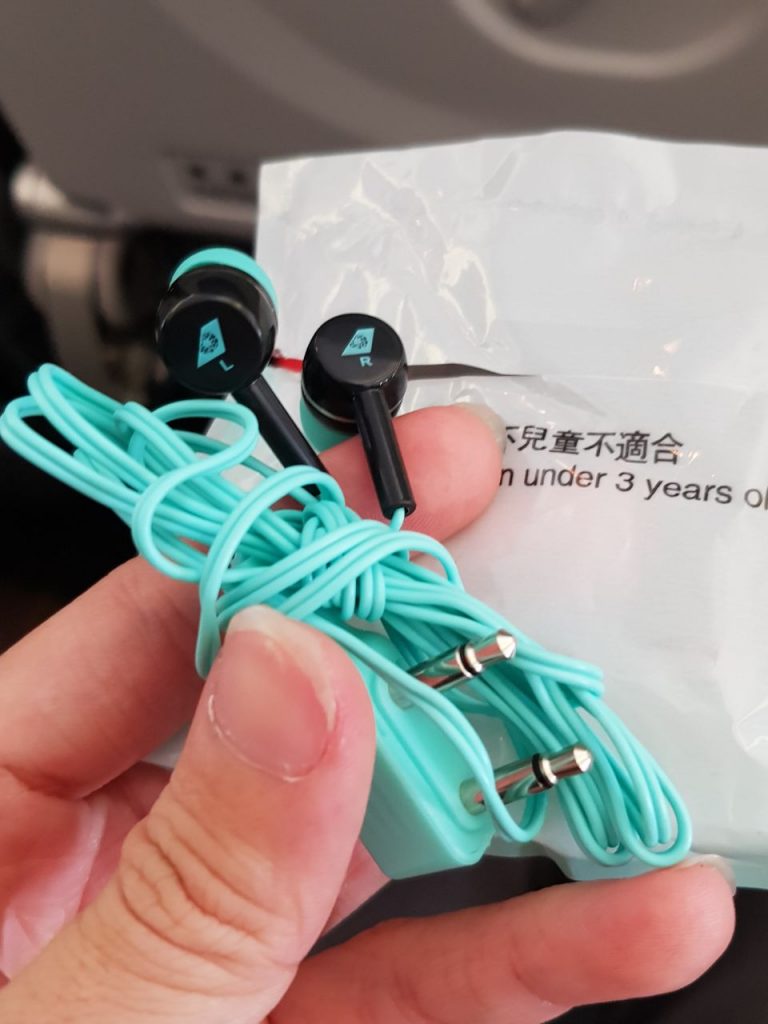 For half the flight, I turned my economy seat into a workstation. Let us see how that turned out. Before we begin, let's have some post-departure snacks.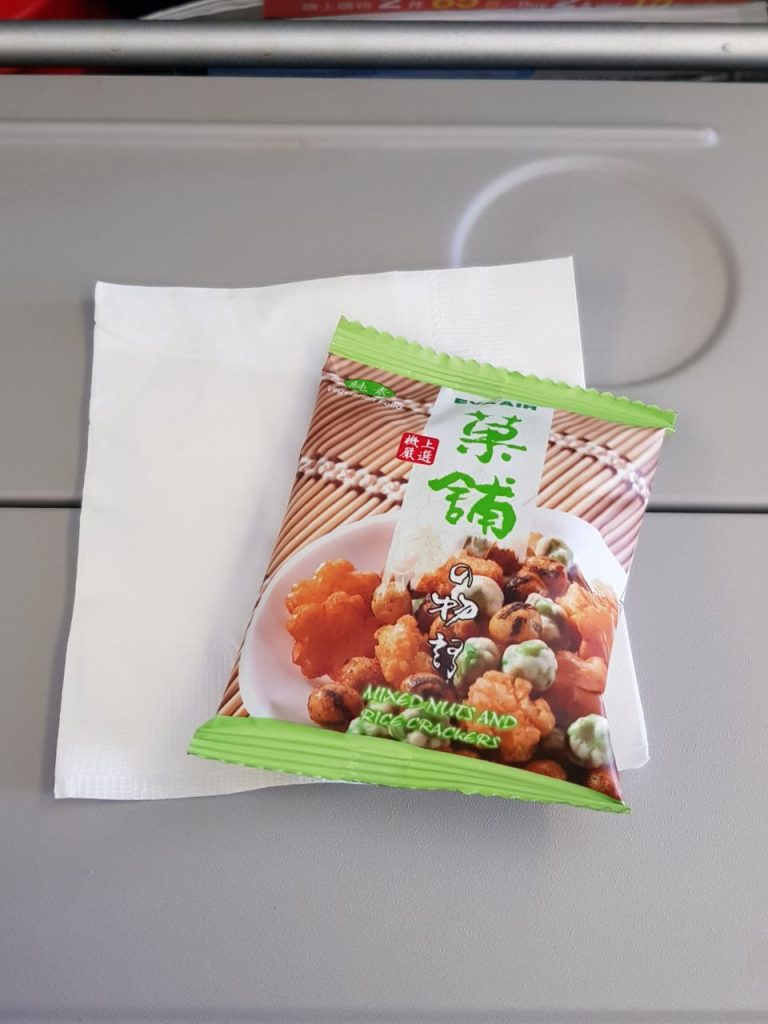 Cabin crew went around with drink service. They had green tea, which I was glad about, since it's my default go-to drink if I needed to stay awake on the plane.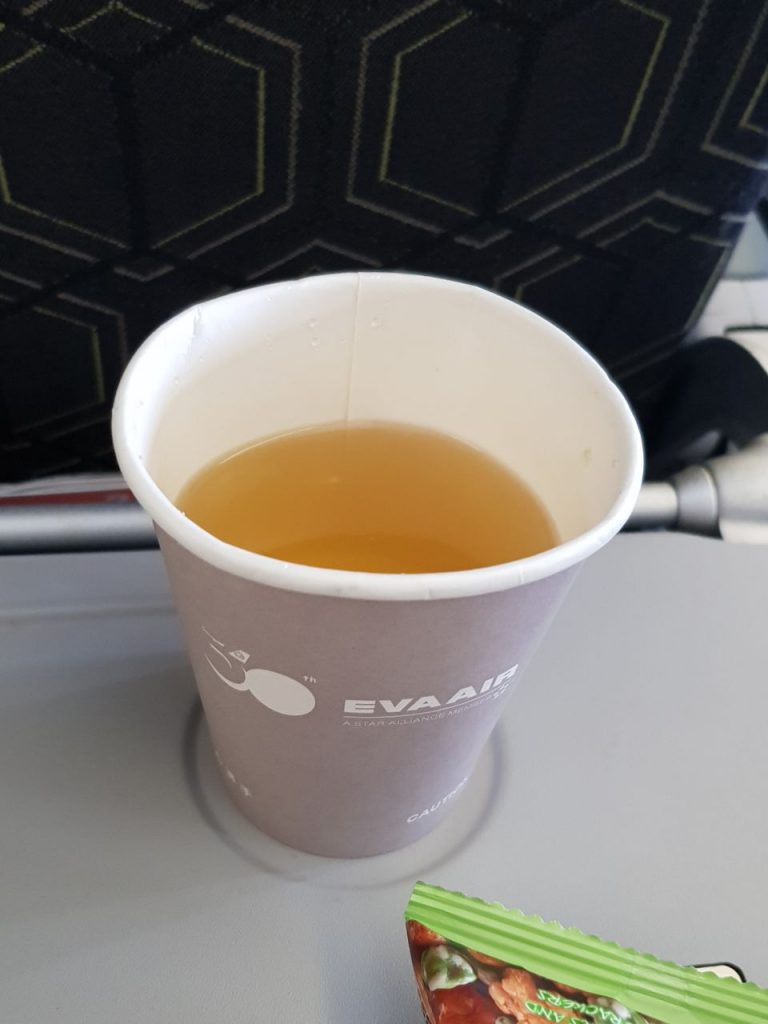 After that, I had some time to type away on my computer. The picture below shows the importance of seat width; seat width also affects tray table width. I had a comfortable, robust working surface and had some spare space to put aside what I was done, or perhaps a phone that I could take reference to for this flight.
Legroom was also great. The tray table was quite basic (no cup holder, which further underscored the importance of seat width to place my cup on the table while I worked on my laptop).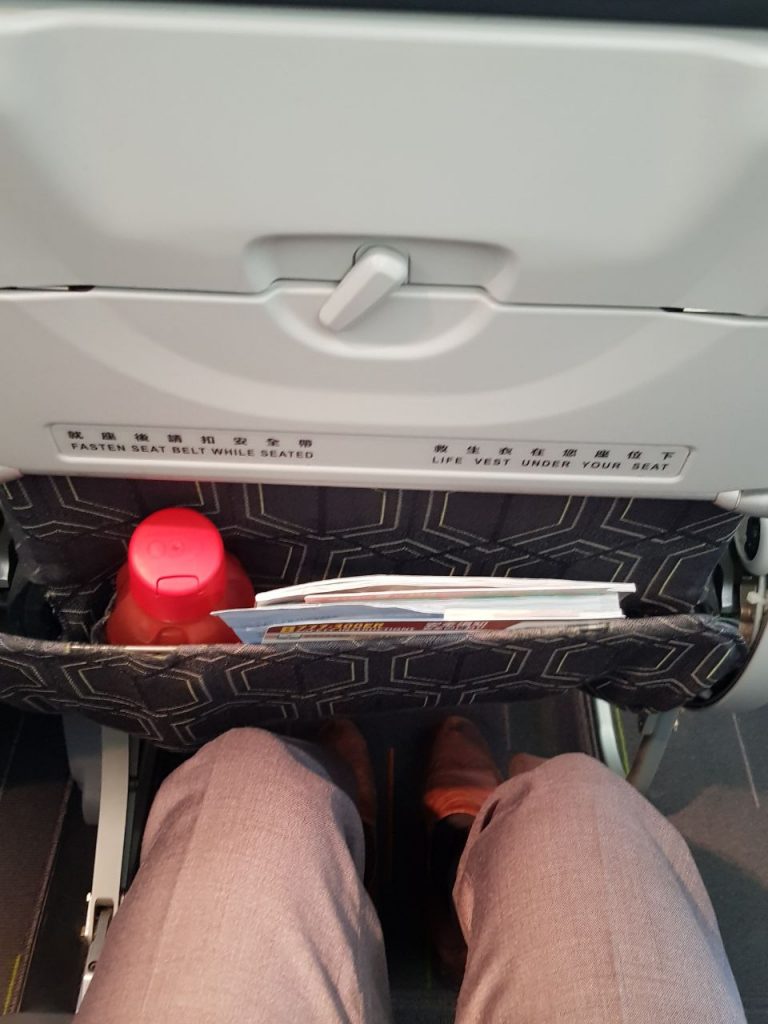 I started working on my laptop while listening to classical music on Eva Air. The sound quality was good enough to provide some sort of white noise to work for an hour, before meal service came.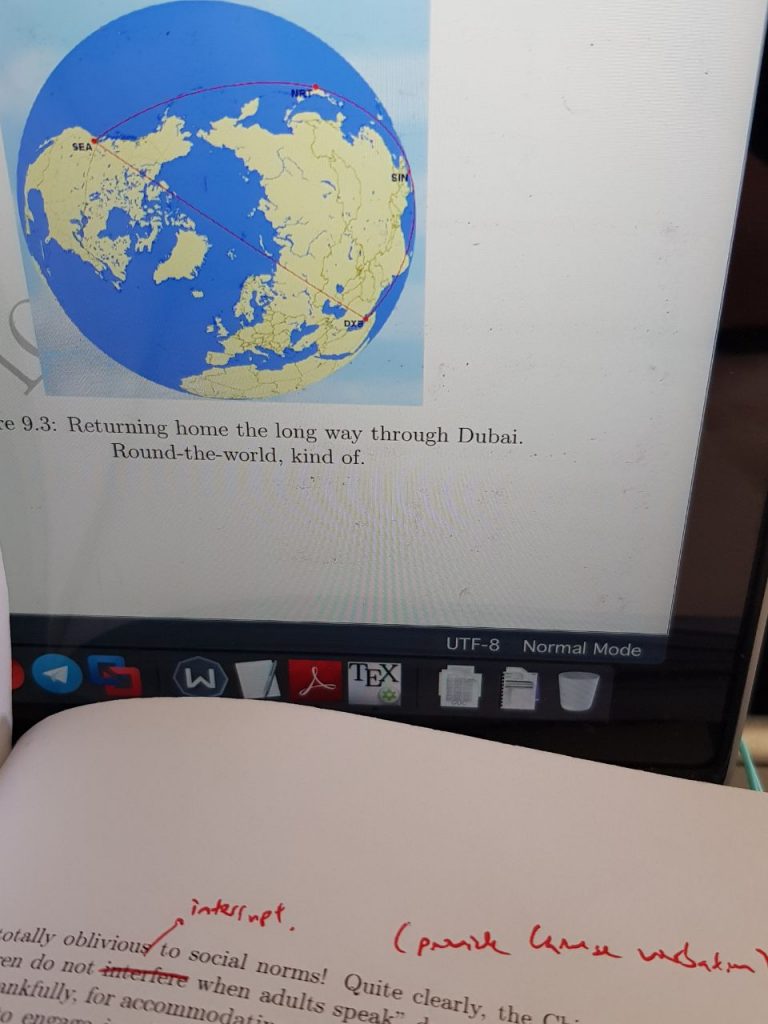 Meal service, however, was disappointing. Perhaps, to the defence of Eva Air, there is no good time to serve dinner, so maybe their portions were… smaller? The quantity of the main course, however, was somewhat appalling. (Somehow economy portions have downsized: refer to https://donavan.sg/blog/index.php/2019/05/26/off-topic-a-travel-review-on-cathay-pacific/ for a similar case of sad economy class food offerings.)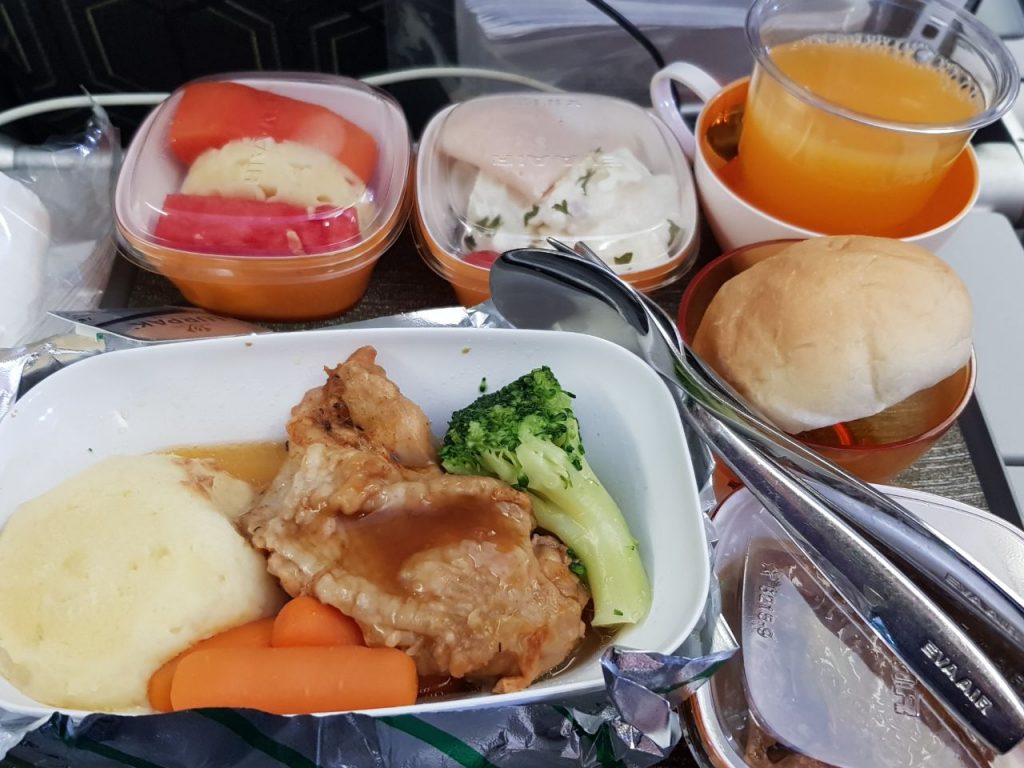 Gone are the good old days where economy class meals were a proposition to look forward to, e.g. the BKK-SIN flight I had a year back on SQ.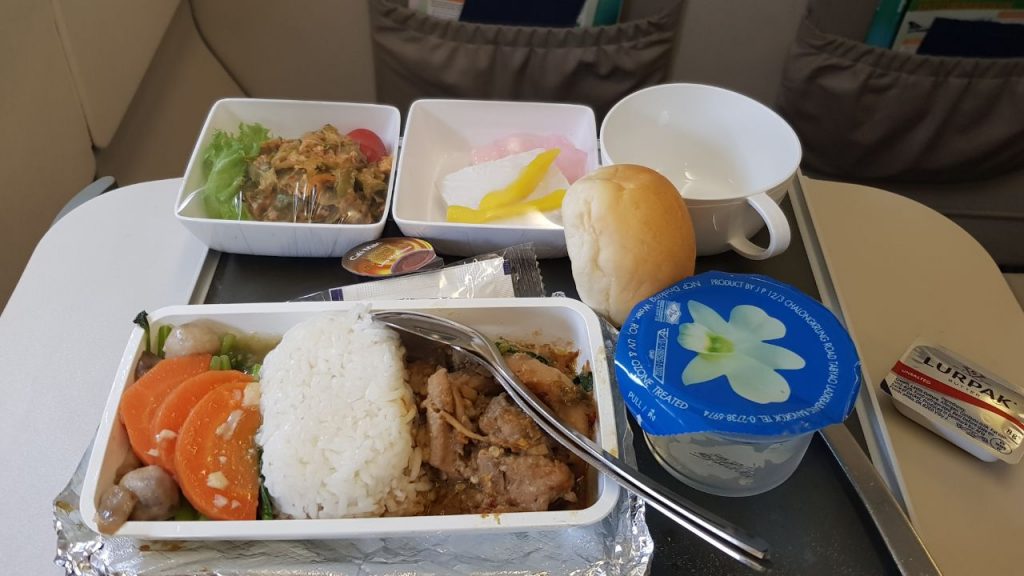 I couldn't give a good airplane food review because I had gobbled whatever there was of the main course. Oh well.
The lavatory was quite a refreshing sight (literally). Flowers greeted each lavatory visitor, which was a nice touch.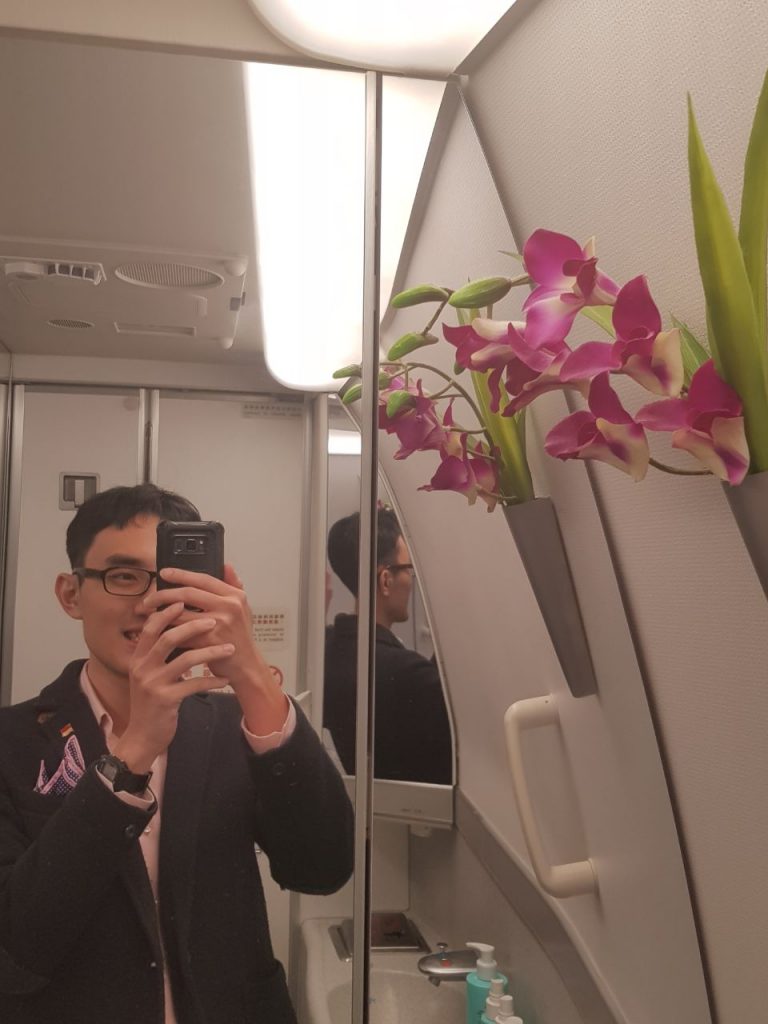 Eva Air's lavatory can be best summarised as an apothecary with its various potions.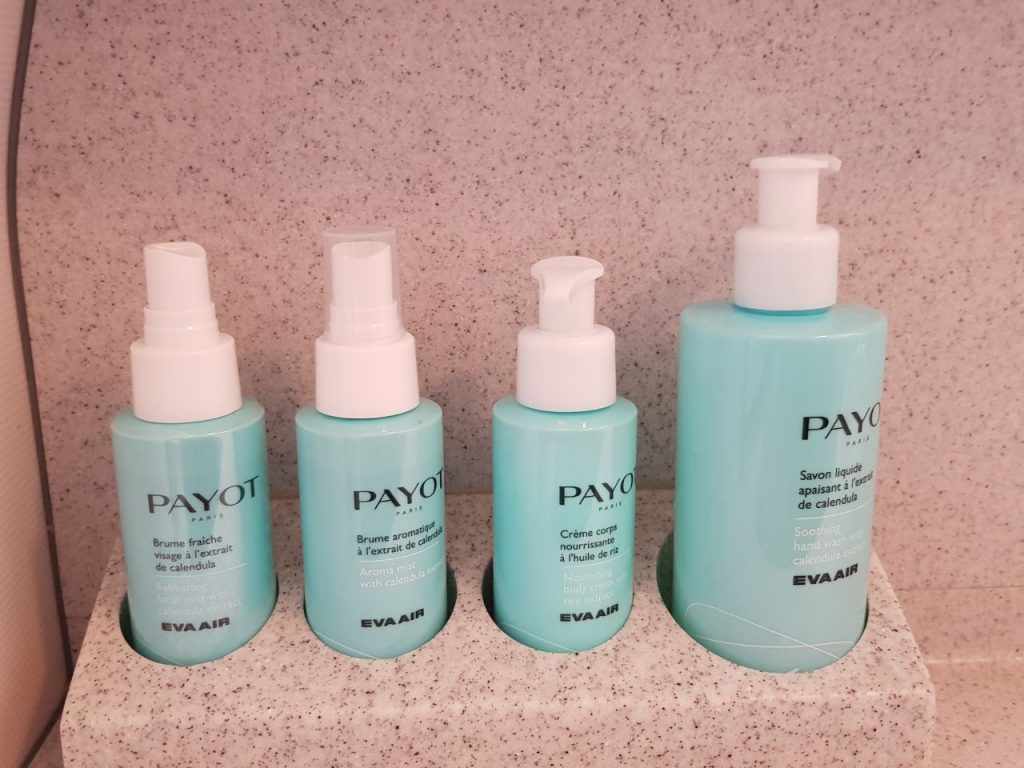 This was above and beyond what I expected in an economy class lavatory.
The AvGeek in me decided to ask for playing guides. My dreams were fulfilled. Standard set, not the Hello Kitty one, but playing cards are very much the entertainment of old-school flyers.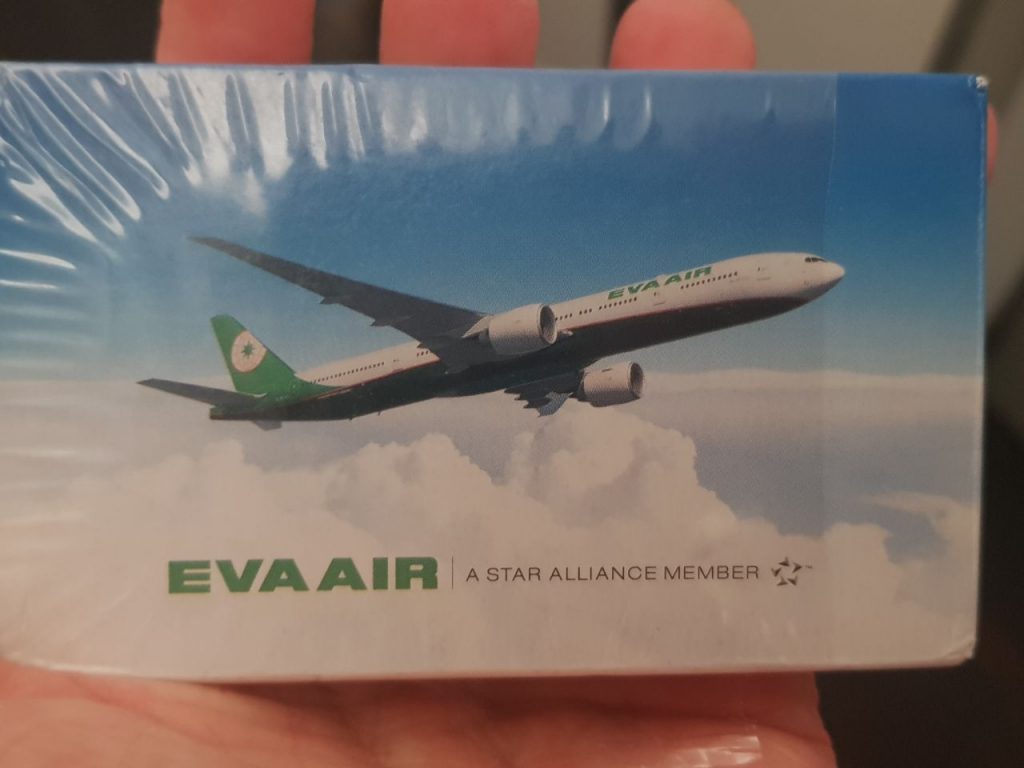 But what really blew me away on this flight was the service oriented nature of the staff. While asking for playing cards, the stewardesses had a chat and noticed I was working away on my laptop. We chit chatted, and I dropped a passing comment about me not doing very much homework at planning my Taiwan itinerary. The stewardess worked out a make-shift solution together with me at the back of the plane; she, with the help of some fellow stewardesses, cobbled together a list of food places without even me asking for any such help. Included was also travel instructions on getting to the hotel. This was the above and beyond value-added service I managed to get.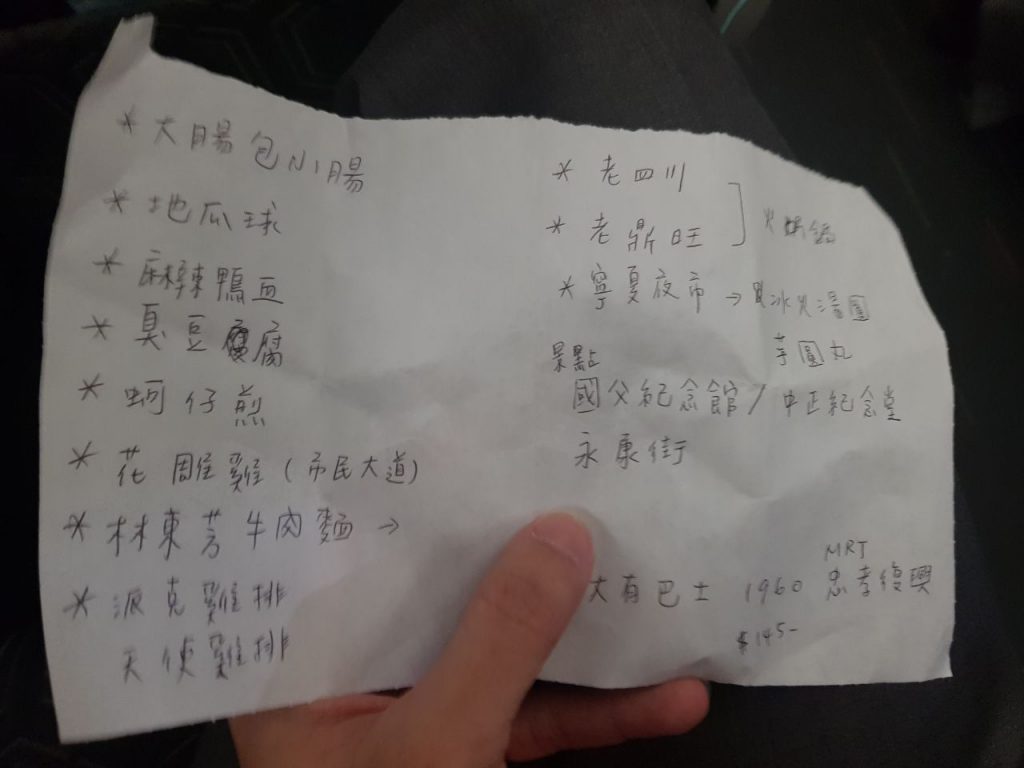 I guess one reason for being partial towards full-service carriers is because of the service that staff provide on-board. At times, travellers like me are in a rush and hence do not always plan for things when we should. The service aspect of full-service carriers is important, and Eva Air certainly delivered with something they honestly never needed to do for a normal passenger like me. Taiwanese hospitality is very much real. Interestingly, I also had a short chat with the stewardess about Chinese education in Singapore, and she strongly encouraged me to write in traditional Chinese. Her reason? At least we understand why certain words in Chinese are the way they are, such as the Chinese word for "noodle".
Eventually we landed in Taipei Taoyuan safely, and took a long walk to immigration.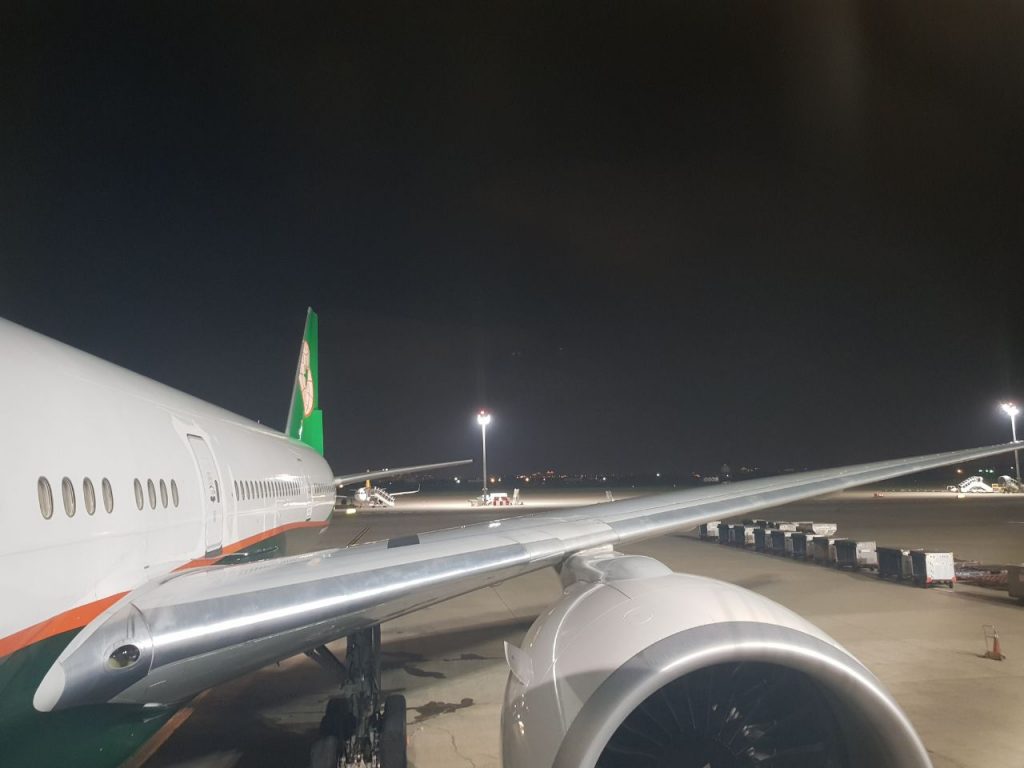 Would I Recommend Eva Air?
Yes, I would! Service blew me away even though the meal left much to be desired. I did not even review the IFE very much; that was just how impressed I was at their service. Reminded me of my Singapore-Dusseldorf flight where the flight attendants, too, gave travel recommendations and tried to get me extra food for my journey ahead. I'll probably pen a commendation letter for their great work.
Hidden Gem of Eva Air
One of the most underrated aspect of Eva Air is how their schedule is tweaked almost perfectly for departures to the United States from South-East Asia. Since I'm based in Singapore, let me use these flight timetables as an illustration of the short, natural layovers to North America on Eva Air (timetables caa 21 October 2019).
Arrivals (from Singapore) Connecting to Departures (to North America)
1745 (Singapore – SIN)
1910 (New York – JFK)
1920 (Los Angeles – LAX)
1940 (San Francisco – SFO)
1940 (Toronto – YYZ)
1950 (Singapore – SIN)
1950 (Seattle – SEA)
2000 (Chicago – ORD)
2200 (Houston – IAH)
2330 (San Francisco – SFO)
2340 (Seattle – SEA)
2355 (Los Angeles – LAX)
2355 (Vancouver – YVR)
Arrivals (from North America) Connecting to Departures (to Singapore)
0440 (Seattle – SEA)
0455 (Chicago – ORD)
0500 (Toronto – YYZ)
0510 (Los Angeles – LAX)
0510 (Seattle – SEA)
0515 (New York – JFK)
0520 (Houston – IAH)
0530 (San Francisco – SFO)
0545 (Los Angeles – LAX)
0550 (San Francisco – SFO)
0600 (Houston – IAH)
0740 (Singapore – SIN)
0925 (Singapore – SIN)
In both directions, connections are excellent for Singapore flights to North America. No weird long layovers in airports. Eva Air, moreover, tends to not be the most expensive option available, and is in Star Alliance, which means the possibility of collecting KrisFlyer miles for those with KrisFlyer that are based in Singapore too. (SQ codeshares on some of these Eva flights as well). The Eva options available for US destinations (many also *A hubs) presents an option for travellers based in Singapore who do not want to take the SIN-EWR, SIN-LAX, SIN-SFO or SIN-SEA non-stops, perhaps because of their price premium. Among the numerous one-stop itineraries possible for SIN to North America travel, Eva schedules are very compelling.
Will write more travel reviews as I go along. Ciao!