Recently, Parliament convened on Tuesday to address concerns about the Comprehensive Economic Cooperation and Agreement (CECA) that was brought up by the Progress Singapore Party (PSP) on numerous occasions.
The term "CECA" refers to a free trade agreement between India and Singapore in August 2005. However, this term was then used recently as a racial slur against Indian professionals working in Singapore. This has got so out of hand in online spheres that Reddit decided to ban the use of said term.
CECA?
CECA allowed for tariff reductions and eliminations, as well as improved market access between India and Singapore, like other free-trade agreements (FTAs) that Singapore signs with other countries. The Enterprise SG site provides summaries of the twenty-six (26) Singapore FTAs we have signed. Together, all these efforts have yielded $1.5 trillion of trade (three times our GDP growth) for a country of 5.6 million people. It is clear that FTAs are existential to us.
Hence, is the issue really with the free trade agreement itself?
If It's Not Actually the FTA, What Is It?
PSP's Leong Mun Wai also agreed in Parliament that they find FTAs useful for Singapore, yet they have repeatedly harped on CECA. Why has immigration become such a hot-button issue?
Let us revert to the Lee Kuan Yew era, where liberal immigration was justified by the need to attract top talent to help fuel Singapore's economy. Today, Singapore also imports significant number of migrant workers to occupy many key roles in Singapore's economy and social fabric. In 2019, Channel NewsAsia reports that Singapore has 255,800 foreign domestic workers (FDWs) to help take care of our families. We import many more migrant workers to take up roles that are perceived as less desirable, including but not limited to blue-collared work such as technician roles, drivers, waiters and other vocations.
Tensions on immigration exacerbated with the Population White Paper in 2013, leading to the largest public protest ever organised in Singapore (back in 2011). Moreover, observations on how some industries were dominated by a single nationality of migrant workers led to new lexicon such as "Chennai Business Park" being invented. However, the PSP was first to bring the acronym "CECA" to the fore to encapsulate these sentiments, turning the neutral acronym for a FTA into one used by the population to echo their frustration against a certain group of immigrants. Interestingly, the anti-immigrant sentiment was selective, not extending to other areas such as FDWs or blue-collared workers. Why is that? Indian IT professionals tend to congregate in the booming ICT sector.
Infocomm Technology (ICT) is a Hot Field
(Disclaimer: I work in the cybersecurity industry. Some of these examples I bring forth will be industry-specific, but with some extrapolation, can be applied to other industries.)
Most recently, Singapore actively attracted Big Tech firms from both the US and China to set up their regional HQs in Singapore. These include Bytedance and Facebook. With these exciting Big Tech firms, other highly competitive and favourable jobs such as cloud infrastructure, software engineering, artificial intelligence and cybersecurity were brought into Singapore.
The common feature such jobs is the requirement to have deep technical skills and great willingness to adapt to changes. Because of how fast technology changes, these jobs also change significantly with time, which make them different from other jobs like accountancy. For instance, the proliferation of Amazon Web Services (AWS) and Azure cloud offerings have transformed infrastructure deployment from largely hardware deployment to software deployment, requiring new skills to be learnt in the short span of a decade. This leads to high barriers to entry and hence significant manpower shortages.
Even at the freshman level, a degree in computer science would result in a mean or median salary higher than those in most other faculties. Starting salaries are a function of demand for labour of relevant disciplines.
But this does not seem to square with the observation some local PMETs report, of migrant workers "stealing their jobs". Did PMETs try to transition to other ICT jobs?
Transitioning to ICT? Everyone Tried!
On my taxi and Grab rides, I ask them, especially the younger ones, why they decide to drive for a living. Some remark the job flexibility, but after I introduced myself as a cybersecurity professional, all of them remarked how difficult it was. Three Grab drivers I know commented that they tried to understand cybersecurity, but none went far.
On the Artificial Intelligence and Machine Learning (AI/ML) front, multiple government organs started Artificial Intelligence SG (AISG) to help grow local talent in AI. One such initiative is to curate courses for professionals and offering a significant subsidy for their AI for Industry (AI4I) track, especially for mid-careerists. I signed up for that to find out how difficult it was.

Eventually, after some months, I obtained my certification.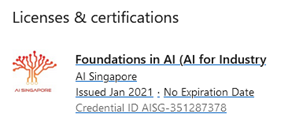 For about half a year's work to understand some AI basics, where would this land me? Perhaps the ability to understand junior-level problems. After all, these are only the foundations. AI4I is in the process of adding a new tier of proficiency for those interested in the AI/ML domain.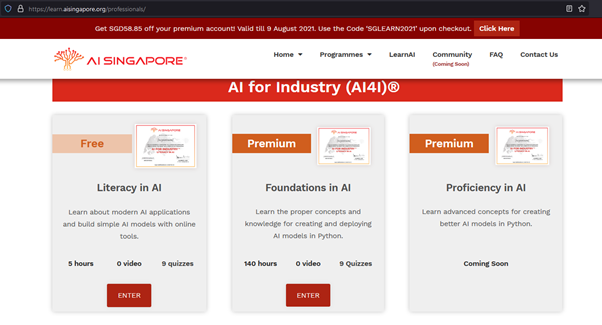 I felt that the course was sufficient to understand basic AI, but it was quite difficult for those who had no prior idea about AI. However, AISG must be commended for trying to come up with a rigorous enough curriculum requiring the student to go through practical exercises to pick up skills relevant to the job market. But none of this is easy; we must try harder. Will the efforts eventually be worth it?
Singapore's Strategic Economic Model Works – Aviation Shows We Can Fly High
In an open economy like Singapore that relies on innovation to survive, its labour force must similarly be malleable enough to adapt with changing times. Strategically, Singapore's economic strategy has always been to entrench itself in areas where it can deliver high value-add to the world's supply chains. Singapore has done this right before. For instance, Singapore's foray into aviation has resulting in numerous net positives for many Singaporeans with a wide variety of jobs for our people with varying qualifications such as technicians, aeronautical engineers, and pilots, even though many of the MNCs brought into Singapore also comprises of many foreigners in top management. Seletar Aerospace Park does not receive the derogatory terms that Changi Business Park receives.
Singapore's aviation ecosystem has developed significantly. Singapore is the only other location outside the United Kingdom that manufactures the most important part of today's civilian aircraft: the engine. We have managed to create a vibrant aerospace industry with local firms like ST Aviation and Singapore Airlines forming strong partnerships with renowned firms like Airbus and Rolls Royce. Together, local and foreign companies can work together to contribute to a vibrant Singapore economy.
Ecosystems, Not Individual Jobs
The aviation and ICT sectors enjoy some similarities. The Government is already bringing in Big Tech firms into Singapore with competitive jobs that Singaporeans find favourable due to high remuneration for the high-value add. More importantly, we want Asia-Pacific ICT needs to be entrenched in Singapore for Singaporeans get first dibs on good ICT jobs in the Asia-Pacific region, just like in aviation.
When Singapore first embarked on our aviation strategy, we were hardly qualified to do any deep technical work. In fact, Singapore was considered unnatural for aviation since we had no domestic market. Building this sector up required many years before Singaporeans took over the critical job functions and led Asia-Pacific operations. Moreover, as part of the ecosystem, there will be jobs deemed "less desirable" even though all of them are important and are interdependent. For instance, the aviation sector has the following:
Pilots
Stewards/Stewardesses
Aeronautical Engineers
Line technicians
Ground operators
Air Traffic controllers
Drivers
Compliance officers
Process engineers
Less favourable jobs must be filled as well, necessitating migrant workers.
The same ideas can be applied to ICT. The ICT sector is full of diverse job roles too, such as:
Network engineers
Infrastructure engineers
Technicians
Compliance officers
Hardware engineers
Process engineering
Data Centre operator
Moreover, not all roles are equally desirable; some roles are required to support other highly sought-after roles. To ensure that good jobs exist for Singaporeans, support jobs must also exist.
Tl;dr: Do Not Conflate a Race/Nationality Issue with a Labour Issue
Going through a brief introduction of the ICT sector, and drawing on some lessons from the aviation sector, the sentiments faced by local PMETs over foreign labour is a labour issue. Local PMETs are anxious that they cannot keep up with the speed of their industries, such as ICT, giving rise to negative sentiments. Yet, the strategy to entrench Singapore into such sectors is important as it helps provide good jobs to Singaporeans. One part alone is insufficient to discuss the broader questions about labour strategy, and whether Singapore's decision to concentrate on specific sectors is correct. This is something I will opine on in Part 2.
Issues local PMETs face are real. We need to understand whether our labour strategy needs to be refined to balance economic competitiveness and social stability. This requires more than one debate, across more than one topic. But such issues should not be mischaracterised in the hope of fuelling a xenophobic/nativist sentiment among some groups of the population. These sentiments will exist, because many will recount personal stories on their perception of being short-changed. But these sentiments should be debated as they are as opposed to hiding them behind an otherwise innocent free-trade agreement (a separate discussion) for Parliamentary debate.