As someone who hasn't flown in three years since the onset of COVID-19, I haven't flown for a while. I would not have seen through the most abrupt of COVID-19 changes. But there are, and thankfully SQ tries their level best through their crew to make it, still, a great way to fly.
P.S. this flight review is written from the perspective of a consumer testing in-flight services. Avgeeks will simply have to message me directly for take-off rolls, landing-rolls and more.
Flight Information
Date of Departure: 5 April 2023
Flight number (aircraft): SQ318 (777-300ER)
Scheduled departure (actual departure): 1235 (1245)
Scheduled arrival (actual arrival): 1915 (1918)
Flying on the SQ 777-300ER is a dying breed, as many airlines have configured their aircraft to a 3-4-3 layout in economy class, whereas SQ has kept their 3-3-3 layout. This will become visible in more ways than one as we describe the journey.
Earphones Still Exist, but Newspapers Not Anymore
As part of SQ's sustainability drive, they have refreshed the service offering significantly. Some detractors call this cost-cutting, but it is a reality in many carriers as all of them recover their wings in an endemic world. SQ probably figured out that people no longer read airline-offered hard copy material anymore, which explains the dearth of magazines and newspapers. Not to fret, the KrisWorld app still contains the KrisWorld magazine; bring your tablet along to enjoy it. Then again, the last time I ever saw someone read a broadsheet in economy was donkey years ago.
Paying for Extra Legroom
I have decided to take 41A to snag myself an extra legroom seat. There are differences between the extra legroom seat and the normal one. For an extra $150-ish, I get this:
Note that the lack of a seatback in front of you means the following trade-offs. Not much, but worth noting the following:
there is no vanity mirror in the tray table (then again, who else provides a vanity mirror)
there is no coat hook in the front row (you'll just have to get creative with storing the coat)
Otherwise, the rich features still exist: integration of Singapore Airlines' app with the in-flight entertainment system, great selection of movies in enough languages for its main markets (I watched a Cantonese and English movie, and listened to a podcast on Europe — all good!)
The handset provided on the 777-300ERs provide a great experience navigating with the IFE.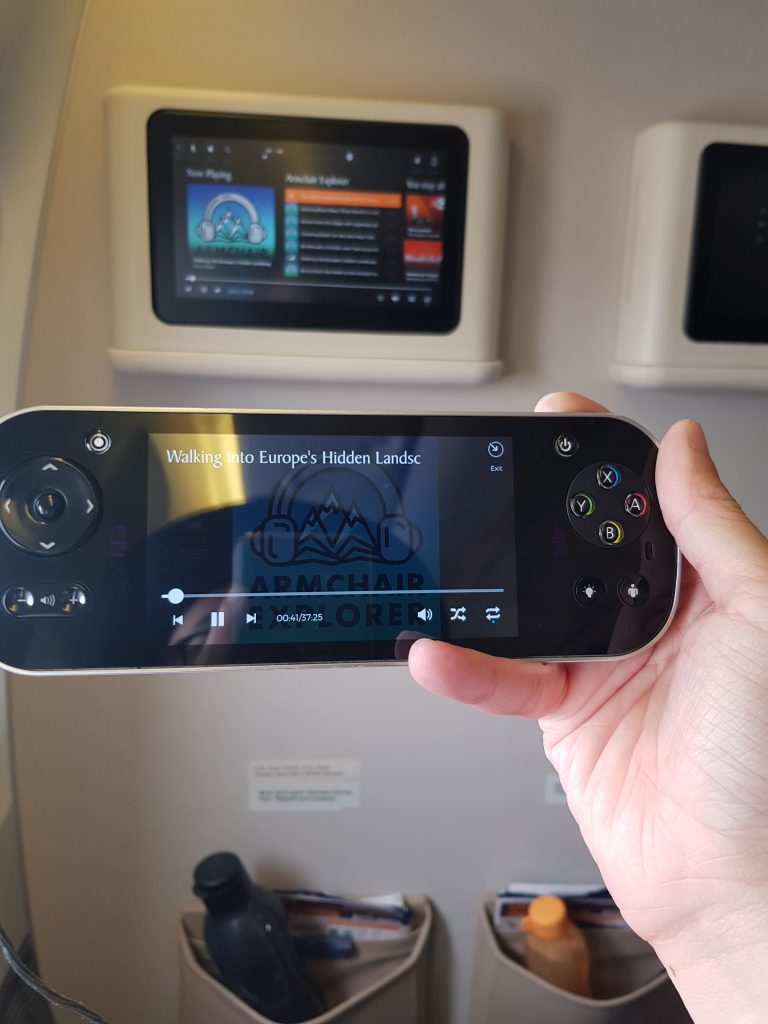 Test #1: Where are the Extra Amenities?
In the past, SQ used to serve even Economy class passengers with an amenity kit. But countless people tossing away amenity kits has led to this service being revised. What has changed?
toothbrushes and toothpaste are still available in the lavatories
amenities are now available on request. These include eye mask and socks
To help you, these are the locations of the amenities. Glad I took the toothbrush and toothpaste because the hotel forgot to stock them in my room!
On every seat, SQ still provides what is probably the fluffiest airplane pillow and a comfortable blanket. I was probably too zealous in taking my seat, forgetting to take pictures of those. Sorry!
Test #2: Can I Have a Drink?
On long-haul flights, it helps to have a comfort drink. Besides water for me (which I drank almost 3 litres of because the 777-300ER has a lower humidity — very dehydrating!), I like a good cup of green tea. But green tea is normally not available on their serving truck! Nevertheless, I got my fix!
But I did not expect this test to take another turn. Normally, on long-haul flights, I will plan my sleeping hours and my waking hours (to try to beat jet lag). On a day-time flight like this, the strategy is simple: stay awake for as long as possible, taking a few naps, and hitting the hotel before having a well-deserved rest. That means I need to pass 13 hours of my time. For many people, cabin fever will set in on them.
One of my habits is to head to the rear of the plane to stretch, and sometimes even pick up tips from the crew on the country I visit. But this time, the conversation with the crew took a different turn. While conversing with FS Zulhlmi, I mentioned about how I missed flying. And one of the classic experiences in flying in premium classes is champagne, and champagne-based cocktails. But it is not available in economy normally. I did not expect what was to come next:
After FS Zulhlmi disappeared to the front galley and beyond for a bit, he returned with… a mimosa! For friends of mine who know bartending, a mimosa is actually a simple drink. But what warmed the cockles of my heart is how FS Zulhlmi satisifed my request! I had a good chat over a few cocktails with LSS April, who also shared insights about SQ's various other offerings. Indeed, it felt like a bit of a festive lounge at the back. (The cabin crew mentioned how the 777-300ER is one of the best aircraft to work in for SQ; more on that later.)
Also, some trivia about the 777's galley, including the fact that all the bread from the ground is heated.
Trivia: Why is Seat Width Important? Not Just Comfort, but Your Toilet Experience Too
Many have been intrigued by my views on seat width. Not being a plus-sized person, I can fit in comfortably even on the 787's narrow seats. So why do I make such a fuss? This is because of two important factors:
Flying in the sky today means we typically bring along a power bank AND a mobile device
Seat width determines how many people you'll fight with (hope not, but it happens) in the economy cabin
The picture below will summarise quite easily the advantages of a wider seat.
We typically bring along power banks, phones, and sometimes keep snacks with us. But in economy class, there is typically no space to put all of these. Many people have jostled with their seat neighbour for space. On a 3-3-3 cabin layout like the 777-300ER, this issue usually does not arise.
But not every carrier configures the 777-300ER as such. Let us give some examples, using some airlines' 777-300ERs that also perform long-haul flights:
CX's seatmap (I present the most premium-heavy config; expect it to be more cramped with the regional configs): 6F, 53J, 34 PE, 201Y
EK's seatmap: 8F, 42J, 304Y
QR's seatmap: 42J, 312Y
SQ's seatmap: 4F, 48J, 24PE, 184Y
Having a cramped plane can impact the economy travelling experience. For instance, looking at QR's and EK's economy cabins, we are looking at more than 50% extra economy passengers per plane. Unlike in premium classes, where one typically enjoys priority immigration clearance and a better passenger:lavatory ratio, this is not the case in Economy. For instance, the EK and QR seat-maps suggest the same number of lavatories as the SQ seat-map.
Hydration is important when flying. Most people will drink some booze, but we will drink way more water on a flight. SQ encourages this by having drinks rounds once every 45-ish minutes (this is how I ended up drinking nearly 3 litres of water). Not every airline was noted to do drinks rounds so frequently because of a more pragmatic reason: having their larger economy cabins queue for toilets is a very negative cabin experience and is correlated to cabin fever. The result tends to be great Instagram photos of the flight experience with the faux wood and colourful IFEs, but a less stellar experience once jetlag and dehydration hits. Since I need to help plan the itinerary and do daily shuffles on the trip, I have to do better and keep myself in good shape; a less cramped cabin allows me to use the few common spaces on the aircraft to stretch, collect snacks and not worry so much I will be a bother, or worse, contract COVID-19 (fewer pax: fewer chances)
Test #3: Of Course, the Meals!
On this day-time flight, two meals were served: lunch and dinner. Normally, economy meal service is not something to be lauded about. But here I noticed some interesting tweaks. First up, the appertiser seems to be gone! But a more careful observer (like me) noticed a de-sync between the in-flight menu for this flight, and the options presented to me.
However, my in-flight menu for lunch was this: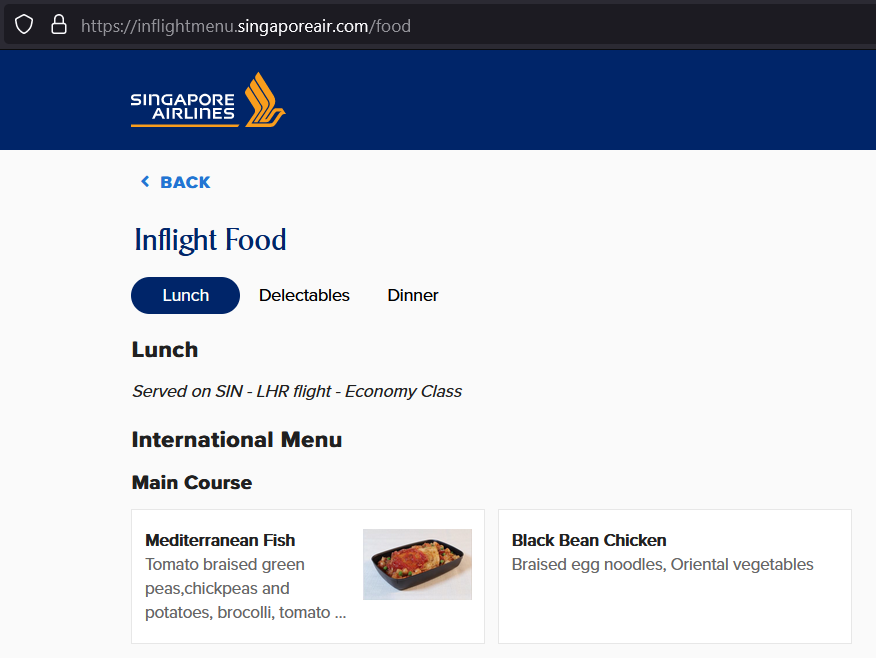 Well, it turned out that there was excess in premium economy. Here is the premium economy menu.
Apparently, the economy meal service has changed in the following way:
the appetiser and old main course have been combined into the larger main course (you can see it with the larger casserole)
On PEY, an appetiser was brought back anyway.
In fact, what has happened was that cost was reduced because the process was streamlined, not because there is less food. But SQ still receives brickbats for this because it appears the tray is emptier. Perhaps that explains why there're still crackers and cheese on my tray…
Dinner was, in fact, a repeat of the same PEY "trick".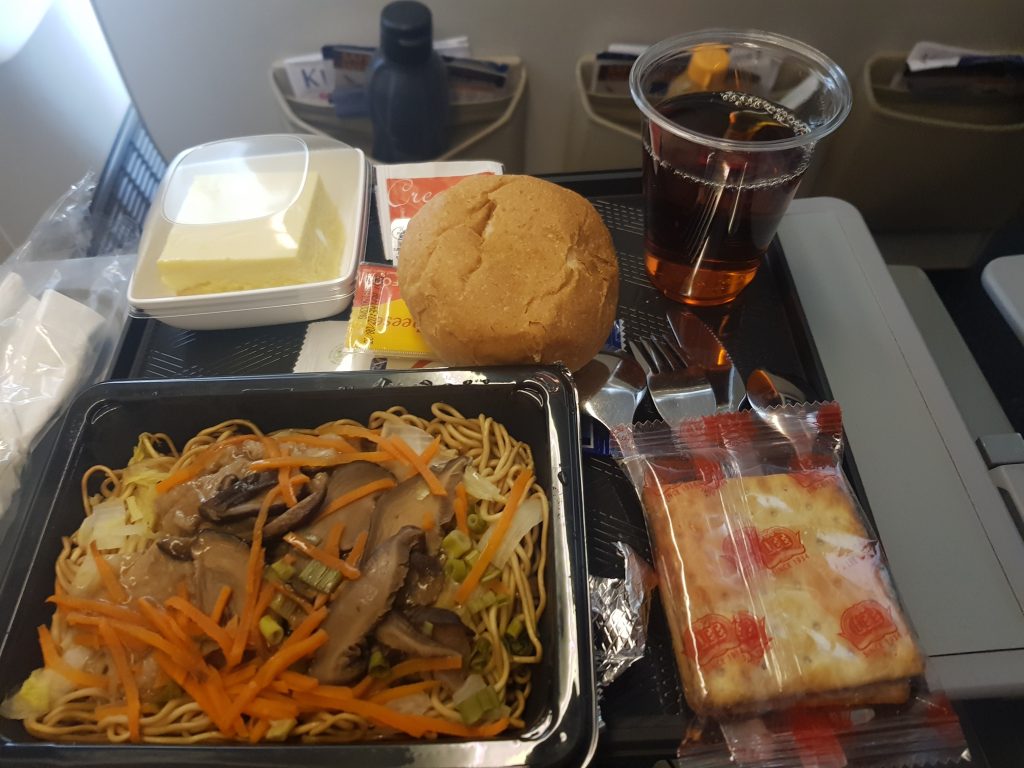 Those who are too hungry can always ask for seconds, because excess food, according to Customs regulations at outstations, will be destroyed anyway. There's no shame in helping the cabin crew with food wastage.
Test #4: Trying to be Filial
When we travel, we certainly think of those at home who do not manage to be onboard with us. Sometimes, it is a bit of a stretch, because an airplane, after all, is not a hotel. We sometimes ask for amenities that are simply not available, or at times, not in the fare class we paid for. I tend to be guilty of these, and will not recommend people to be this wanton in asking for perks they don't need, but I wanted to give my niece a whiff of SQ.
So I asked FS Zulhlmi once again, about my stretch request. I was expecting a "no" (because that's the default response, and honestly, this would have been perfectly acceptable since I was not in the correct class anyway). But FS Zulhlmi suggested me to wait while he tries asking the lead to see if he could fulfil the stretch request.
After an hour or two, this came!
In short, all 4 tests were passed with flying colours. 🙂
Please be Nice to Your Cabin Crew, So That They Can Be Exemplar
The truth is that an endemic world is different. The way people travel will change with the change in the demographics of flyers. Younger people are more digitally savvy and dislike the sometimes stuck-up "romance of travel". Hence, reductions in some service are inevitable and I've got used to that. Notice the missing hot towels? Maybe you did not. 🙂
But I spent some time mulling over how my own personal travel patterns have changed after a hiatus. They have changed. I used to be a stickler for collecting every single amenity I could get my hands on. But I end up with a surplus of all sorts of amenities (for one, I still use my JAL shoe horn in premium economy). But it's very hard for me to echo sustainability on one hand, yet pick up all sorts of collectibles simply because I can. Brownie points like these are no longer important. Now, I value function. If there are fewer people who compete with me for immigration and customs clearance, as well as toilets, I'll gladly take it. And I think there is now a new generation of young, affluent business-class travellers who can pay Business saver rates, or perform miles hacks, to travel in business class, not so much because they want to experience business class once, but because they value flying with fewer people surrounding them.
Of course, the bulk of travellers must still travel economy class simply because their circumstances do not allow them, or because they choose to save money on air travel in favour of ground comforts. This is why I still travel in economy and review economy mostly. I still have a long way ahead of me, and I will inevitably encounter premium products. So I hope I don't sound too effusive or biased in praise while neglecting showy features, but times change and customers will change in what is valuable, which in turn also drives changes in hard product.
But soft product is still in the hands of the cabin crew. Besides flight comfort, they are also there for safety. And soft product is also quite dependent on the number of people they have to serve, the facilities in which they have to serve passengers, as well as the training received back in cabin crew school. The reason why I am so pro-SQ is not because SQ is my national airline (you'll never see me get too excited over Scoot or Jetstar Asia), but because I know SQ will exceed expectations as long as I am first, a good customer to be with.
But you can help being nice too. For instance, writing such a review like this, because the crew will appreciate it. In the world of customer service, the only way exemplary crew will be noticed is if we, as customers, write about why their work is stellar. This is how the service industry works, regardless of whether it is air travel, hotel service or even your local bus driver. Thus this post, and why I encourage you to be positive if you have had a good experience.